Many Called, Few Chosen
Sep 17, 2023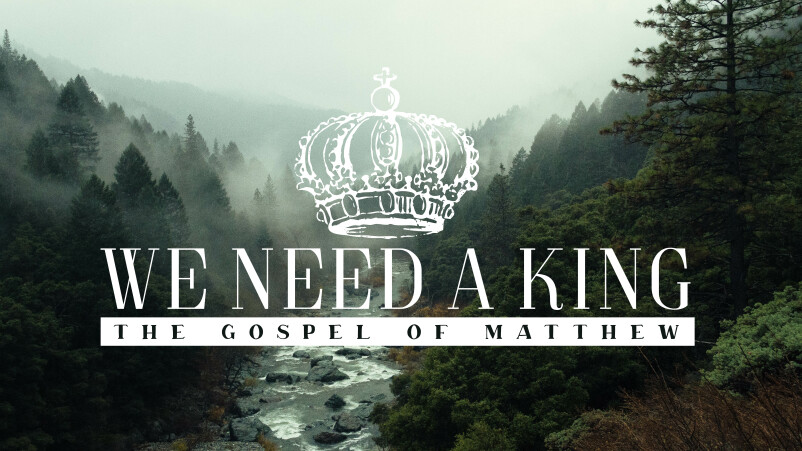 Detail
Matthew 22:1-14 – Many called, few chosen
[READ]
Intro: Starting 15th year at Anchorage Grace Church.
Began when 37 and Judy, 36, came (virtually) sight unseen to Anchorage, AK.

Anchorage is roughly 300,000 people.
Nestled inside of 700,000 people up here.
"Ever wonder why you are here?"

Many do.
Obvious reasons?

Born here, good job, life circumstances etc.
Drawn here.
[KEY] This parable clarifies my reason for being, in AK. My raison detre'.
Verse 14 summarizes why any Xian is anywhere.
ESV Matthew 22:14 For many are called, but few are chosen." (Mat 22:14 ESV)
[Quote] "Xians call everyone, watching X bring anyone, (he's chosen), to himself."
Always formula for evangelism.

Tell everyone to join.
Expect certain "chosen" ones to join.
[Appl] Anchorage has a lot to offer in terms of beauty.
Being characteristically extreme.

Extreme weather, extremely remote.
While being a dramatic intersection, crossroad on the globe.
[Illus] Downtown school district boasts, 97 different languages.
2nd only to NY city in diversity. World-sized melting pot.
Cargo shipping, military, oil, fishing, a and a marketable ecosystem.
Alaska is a destination, wide cross section of people from around the world.

Transient in terms of city.
Ancient in terms of its villages.
250 villages in Bush AK.

Evangelism is X's same formula for Bush AK.
Call everyone, trust God to bring his chosen to himself.
[Question] "Is embracing God choosing people, stifling evangelism?"
Can be true.

"God's calling his people, so I don't engage."
Opposite, always should be true.
[Appl] Compelled to speak up, bc/God's calling and drawing whom he wills.
Two deterrents to evangelism.

Personal rejection – rejecting you.
Practical rejection – rejecting God again.
Dilemma answered when leave results up to, sovereignty of God.
[Illus] Note struck in the early church. Paul and Barnabas turned evangelism to the gentiles.
ESV Acts 13:45-49 But when the Jews saw the crowds, they were filled with jealousy and began to contradict what was spoken by Paul, reviling him.
46 And Paul and Barnabas spoke out boldly, saying, "It was necessary that the word of God be spoken first to you. Since you thrust it aside and judge yourselves unworthy of eternal life, behold, we are turning to the Gentiles.
47 For so the Lord has commanded us, saying, "'I have made you a light for the Gentiles, that you may bring salvation to the ends of the earth.'"
48 And when the Gentiles heard this, they began rejoicing and glorifying the word of the Lord, and as many as were appointed to eternal life believed.
49 And the word of the Lord was spreading throughout the whole region. (Act 13:46-49 ESV) (Act 13:45 ESV)
[Illus] Doctrine of God's Sovereignty, challenged Paul when wanted to leave early, mission @/Corinth.
Discouraged with early church evangelism, Paul stayed 1½ year more, under the promise that God's elect in the city.
ESV Acts 18:9-11 And the Lord said to Paul one night in a vision, "Do not be afraid, but go on speaking and do not be silent,
10 for I am with you, and no one will attack you to harm you, for I have many in this city who are my people."
11 And he stayed a year and six months, teaching the word of God among them. (Act 18:9-11 ESV)
[Appl] Practically speaking: Trust the sovereignty of God w/life's many outcomes.
Instead of being a practical agnostic:

Everything's unknowable, unpredictable in life.
Seeing sovereignty of God fulfilled over and over during your lifetime.
Parables are windows into life.
How life really works.
[Context] X's @/midweek (inside Passion week) setting expectations for what life will be like.
[Prop] Jesus sets two expectations for life in his kingdom.
Many are called (vv. 1-7)
Likely guests (vv. 1-4)
[KEY] X's 3rd parable in a row, @/Matthew's account.
Same bifurcation made btwn/believers and unbelievers.

Those inside kingdom and not.
The "kingdom of heaven" - "compared" (v. 2).
X's masterfully making profound, simple w/story.
[KEY] Story begins w/king throwing "a wedding feast for his son" (v. 2).
Could not be more meaningful and sentimental.
[Appl] Weddings are family history makers. Memorials.
King sends "servants" (v. 3) to prior invitees. "Likely guests."
[Note] "call" [Kalew] "invite" (v. 3), [cff. vv. 3, 4, 8, 9, 14].
[Note] vv. 3 and 4 "Call those who have been called."
[KEY] King sends "servants" to call out to "those who are invited" (v. 3).
Expected (assumed) to come.

Just need this formal reminder.

The Jews.
Invited as a nation.
King woos his people to join him in the feast.

Obvious connection to the prophets.
Response: "…they would not come" (v. 3).
[KEY] Patience of king, noteworthy. Patience we should likewise show.
Instead of taking offense, the king moves back toward his invitees.

Doesn't see first rejection as final!

Accordingly ups his offer.
Sends servants a second time.

Not only are they to go back to those "invited,"
Come w/promise of prepared food, a banquet, a "wedding feast" (v. 4).
[Illus] Parallels wedding feast in Revelation called, "the marriage supper of the Lamb" (cf. Rev. 19:6-9).
ESV Revelation 19:6-9 Then I heard what seemed to be the voice of a great multitude, like the roar of many waters and like the sound of mighty peals of thunder, crying out, "Hallelujah! For the Lord our God the Almighty reigns.
7 Let us rejoice and exult and give him the glory, for the marriage of the Lamb has come, and his Bride has made herself ready;
8 it was granted her to clothe herself with fine linen, bright and pure"-- for the fine linen is the righteous deeds of the saints.
9 And the angel said to me, "Write this: Blessed are those who are invited to the marriage supper of the Lamb." And he said to me, "These are the true words of God." (Rev 19:6-9 ESV)
[TRANS] Significance of invitation should not be underestimated nor dismissed.
What invitees do; the world does.
Unlikely rejection (vv. 5-6)
[KEY] Dismissive nature, pronounced by laissez-faire attitude.
Pay no attention to what's offered.

Passively going to their "farm" and "another to his business" (v. 5).

What people know and familiar.

Comfort zones.
Satisfaction in possessions.
[Appl] Idols of identity found in your business. Boomer generation suseptible. Comfort in significance.
[Appl] Second and third generations being seeing through illusion of empty dream, counter this sin becoming "non-workers" tempted to freeload.
[TRANS] Verse 6 shows aggressive/violent approach to offer.
Stamp offer out by "seizing" "shaming" and "killing" the king's servants (v. 6).

Angry to point of being homicidal.

"When kindness offered?"
Cause: "A guilty conscience!"
People reject invitation to heaven bc/not want exposure.
[Appl] Like when family pursues a lost person, offering to have them over for a meal.
"Eat our food, laugh and talk with our family."
Invitee, wants to join in, but his heart is being torn apart inside, knowing that he's still unwilling to deny himself shameful pleasures/comforts that contradict this love, what rebuffs this kind welcome.
[Appl] Most reject Jesus' offer for to join his kingdom. An offer extended via invitation, and then followed by greater and greater invitations, which are either ignored or traded away for worldly comforts or angrily rejected by vicious attacks.
[TRANS] What's left is the king's response.
Righteous indignation (v. 7)
[KEY] King is angry, and for good reason, so sends troops and destroys "murderers" and then "burned their city" (v. 7).
Now this is finality.

Warning is to never spurn grace from this king, especially grace that's increasing.
[Illus] In middle east, even modern day, rejecting hospitality is highly offensive.
[Illus] Syrophoenician women (when Jews reject X's offer), begs for breadcrumbs given to the dog.
ESV Mark 7:27-28 And he said to her, "Let the children be fed first, for it is not right to take the children's bread and throw it to the dogs."28 But she answered him, "Yes, Lord; yet even the dogs under the table eat the children's crumbs." (Mar 7:27-28 ESV)
[Question] "What about when God suddenly does not appear to be gracious anymore?"
[Appl] People think they want a God who will never lower the boom of judgment on anyone after any amount of time.
People believe they want a God like this, but a God who is likened to a senile old man who only can offer grace while being completely naïve to rejection is no real God at all.
For God to be God, he by the nature of being the ultimate status by necessity will bring an ultimate standard and this ultimate standard will always be answered by one of two outcomes.
God's ultimate status which carries the weight of God's ultimate standard makes everyone answerable by way of an eternal exemption signed in the blood of undeserved grace or an eternal penalty of fully deserved judgment. This is what it means to answer to a real God. The God described to you in Scripture.
[KEY] God's full range of attributes are on display – Grace and Justice.
[TRANS] 2nd half of X's parable, where God's remnant is chosen.
Few are chosen (vv. 8-13)
Unlikely disciples (vv. 8-10)
[KEY] Verse 8 introduces a time marker in X's parable; king telling servants, "The wedding feast is ready…" (v. 8).
All operating according to the king's timetable and not anyone else's.

God's grace is totally free.
Unearned, given to all who will receive it.
Offer, while free, eventually closes to rejectors.
[Illus] Eschatology tells us that in the future God promises believers a feast in heaven, but this feast is only welcomed to those truly invited and those invited are unlikely disciples.
[KEY] Earlier invitees (according to the king's words), "…were not worthy" (v. 8).
On surface, you might ask, "Who is ever truly worthy to come to the king's feast?"

No one right?
Worthiness is based on "openness."
[Appl] From the outside perspective, someone being offered the invitation to come to Christ, is deciding to either open their heart to God or closing it.
In the case of the first group invited, closing your heart is done both passively and aggressively.
Underneath the surface, opening and closing of heart is the operation of the Holy Spirit, making it God who makes worthy or unworthy for this feast [Mystery of Sov. Of God and Freewill of man].
[KEY] Verse 9 takes us to the king's renewed commission to his "servants" to "Go therefore to the main roads and invite to the wedding feast as many as you find" (v. 9).
These "main roads" emphasize a broader plain for inviting all-comers.

Earlier call, to specific people, implied from, specific area.
Prior invitation targeted people, expected to say yes.

Invited before.
Emphasis was still a wide call.
The second call is categorically wider and wonderfully spontaneous.

"Go…to the main roads…invited…as many as you find" (v. 9).
Servants unleashed to gather unlikely disciples.

By nature of new and unexpected opportunity, these flow into to a feast they never thought possible.
[Illus] Difference between spoiled child, unimpressed at Xmas vs. child wild-eyed in disbelief over what receiving.
[TRANS] Verse 10 describes servants going out into the roads, gathering "all whom they found" meaning all who they providentially came across.
Implied automatic nature of people responding, "yes!"
What kind of people were saying yes? "…both bad and good" (v. 10).

Description of invitees, not based in "moral status."
The status of "bad and good" is graded societally.
[Illus] All are sinners, but some sinners are, according to society, known as worse than others. For instance, the tax-collectors and prostitutes [cf. Mt. 21:32] classified as bad whereas the philanthropic, religious, or law-abiding citizens classified as good.
All comers on equal footing.

Bc/"bad and good" have same thing in common.
Both are willing to come to the king's feast.
[KEY] All want in! "So, the wedding hall was filled with guests" (v. 10).
Party filled w/"unexpected attendees."

Implied is that this group.
Is a new kind of family.
[Appl] Apply this to AGC. Our church in Anchorage is unique to my experience.
Being raised in the South, the cultural norm was to claim Christianity.
"Everybody loved Jesus when I was young!"
Eventually church consumerism took over, breeding this same take it or leave it attitude.
Anchorage, w/extreme weather conditions, transience, and being a melting pot, catalyzes a degree of unsettledness which can breed an openness to the God's invitation.
Both "bad and good" people called to X here can be the grace of God to them.
Pretentions stripped away where comfort zones are regularly tested here. AGC should hear this call to "Go" and seize the opportunity to call people to the king's wedding feast. Who cares if people have never felt they received a formal invitation in the mail. "We don't do formal in AK!" Tell people to "just come inside!"
[TRANS] Leads us to a sidebar beginning in verse 11.
Likely guest (vv. 11-12)
[KEY] King "…came in to look at the guest" (v. 11).
Evaluating new crowd, inspecting invitees.

Someone stands out, "a man who had no wedding garment" (v. 11).

Not appropriately dressed for the occasion.
Exposing, he'd slipped in uninvited.
Presumption, prior invitation (though rejected) still open!

Having second thoughts he shows up.
Prior invitation, once rescinded, meant he's out of place.
[KEY] Presuming, entitled, based on the earlier invitation.
There is one problem.

Conspicuously not dressed for the occasion.

Does not fit in.
Stands out.
Garments had since been distributed, unawares.
Wedding garment not symbolizing higher status, but "appropriateness" to occasion.

Prior rejection of king's invitation rendered man's presence, now inappropriate.
He was now not welcome at this party.

REJECTING GOD'S GRACE
IS AND ULTIMATE SIN.
[KEY] Verse 12 is the king's respectful inquiry w/ a question: "Friend, how did you get in here without a wedding garment?" to which, "…he was speechless" (v. 12).
Man has no answer to this gracious question.

Unable to argue for himself, from merit warranting being invited.

Exposed as someone who is not supposed to be there.
Everyone there would clearly see this reality.
Cannot defend himself to this king, bc/he had snuck in (entered by own means).
The only way to be inside, banquet hall safely, is to be dressed in the garment of the feast.

"By what King could give, not By what this man could do."
For Heaven, everyone will be robed in this righteous robe of Christ.
ESV Isaiah 61:10 I will greatly rejoice in the LORD; my soul shall exult in my God, for he has clothed me with the garments of salvation; he has covered me with the robe of righteousness, as a bridegroom decks himself like a priest with a beautiful headdress, and as a bride adorns herself with her jewels. (Isa 61:10 ESV)
ESV Zechariah 3:3-5 Now Joshua was standing before the angel, clothed with filthy garments. 4 And the angel said to those who were standing before him, "Remove the filthy garments from him." And to him he said, "Behold, I have taken your iniquity away from you, and I will clothe you with pure vestments."
5 And I said, "Let them put a clean turban on his head." So they put a clean turban on his head and clothed him with garments. And the angel of the LORD was standing by.
(Zec 3:3-5 ESV)
ESV Luke 15:22 But the father said to his servants, 'Bring quickly the best robe, and put it on him, and put a ring on his hand, and shoes on his feet. (Luk 15:22 ESV)
ESV Romans 13:14 But put on the Lord Jesus Christ, and make no provision for the flesh, to gratify its desires. (Rom 13:14 ESV)
ESV Revelation 19:7-8 Let us rejoice and exult and give him the glory, for the marriage of the Lamb has come, and his Bride has made herself ready;
8 it was granted her to clothe herself with fine linen, bright and pure"-- for the fine linen is the righteous deeds of the saints. (Rev 19:7-8 ESV)
[Appl] Necessary bc/dominant attribute of heaven is holiness.
Think, outer space, how dominate attributes are no oxygen and no gravity.
Survival in space predicated on life support system, namely a spacesuit. Without this outer garment, you will not survive.
Cook inlet requires 6-millimeter wetsuit, to surf the bore tide. Without the appropriate outer garment, you cannot last in certain environments.
Climbers in extreme Alaskan environments immediately understand this reality.
Heaven makes no exceptions once you are there! Either have the outer garment on, covering your sin, or will be dejected because there is zero tolerance for sin.
Righteous indignation (vv. 13-14)
[Note] Verse 13 ends parable w/harrowing reality and on/harrowing note.
King orders "attendants" (same "servants") to bind violator the wedding.

Angels?
Again, indignation portrays God's righteous justice and judgment.

Grace and judgment are what makes God, God.
To "Bind" this man "hand and foot" shows finality.
No escaping this circumstance.
Door for grace has closed, as for anyone standing unprepared before God, forever doomed.
[KEY] Hell described as "outer darkness" where there is "weeping and gnashing of teeth" (v. 13).
Judgment that's unfathomable as "warning of warnings."

"Weeping and gnashing of teeth" (v. 13) is the constant reminder of how you came to be there in the first place.

In a word: "Regret!"
Closing your heart, when invited.
[KEY] Verse 14 summarizes parable. "For many are called, but few are chosen" (v. 14).
Summarizes what we should expect in life!

Invitation to come is open to all.
"Only those who come, come, by the grace of being chosen."
"Chosen" is Elecktos, "…few are elect" (v. 14).
Conclusion: Considering eternal Hell, when considering our sin, the only hope is knowing you are chosen by God, not to go there.
If you believe you either deserve Heaven or deserve Hell, you'll despair.
Both ideas are not based on grace.
Understand grace in being chosen and leave what you "deserve" there.
If God has invited you and you have received his invitation, this is grace.
The reason you will be in Heaven.