Reviving John the Baptist, Pt. 2
Mar 06, 2022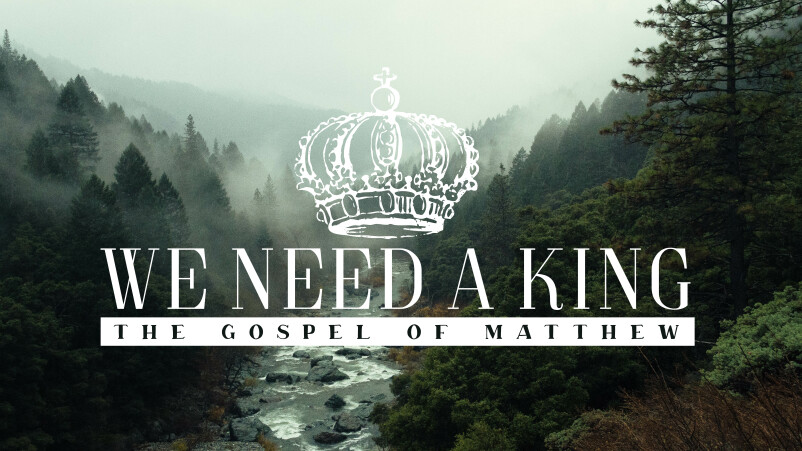 Detail
[Overview verses 1-15] This is reminiscing in retrospect: 4 phases of John's life.
John ended up in jail (v. 1)
John cried out for help from Jesus (vv. 2-6).
John was found in the wilderness (vv. 7-8)
John was the forerunner of Christ (vv. 9-15)
The shift is from Jesus vindicating himself to John as Messiah to Jesus affirming John as a true prophet all happens between verses 6 and 7.
"Did John sink himself in sinful doubt?"
Did he have a critical spirit being impatient?
Did he lose hope?
Jesus gave John the acid test with miracles (cf. v. 5).
Physical miracles pointing to spiritual miracles for today.

In hearts.
New believers within the church.
Death to life.
Eyes that see and ears that hear.
Jesus vindicates Messiahship, point to Isaiah 61.
Jesus marked this phase of his ministry quoting 61:1 (cf. Luke 4:18-19).
John had to accept the complete revelation of God.
Not only in terms of God's coming wrath.
But coming first with grace and redemption.
Now Jesus shifts focus from John's plight onto the crowds, citing when they went out in mass to see John in the wild.
Defending John, remembering what he was like.
Wild and Humble really Jesus' titles, "Violent" and "Humble."
"…suffering violence" and being "violent" (cf. v. 12).
Jesus is saying, John is our model to follow!
"What made John the Baptist greatest?"
1. John was Violent (vv. 7-8)
Jesus moves from defending himself to defending John.
Verse 7 shifts audience.

Jesus moving away from addressing John's disciples to addressing the crowds.

From pastoring John's doubts to everyone else's possible doubts.
Responding to what could affect this crowd.

John's doubts creating doubts in others.
Doubting Jesus from doubting John.
The crowds second guessing John's validity and in turn Jesus' validity.

Doubting his message and mission.
Doubting the Gospel.

Negativity is dangerous.
A critical spirit will damage souls.
"What did you go into the wilderness to see?"
Repeats question (cf. v. 9).
Rhetorical to say, "What did you expect to see?"
Jesus conjures memories the crowds would have of John the rugged prophet!
They did not see, "A reed shaken by the wind?" (v. 7)

They did not see something solitary stem shaking back and forth in the wind!
Vacillating in opinions, confused over his "Purpose!"
All Jerusalem went out to John, repenting of their false religion.

"John, the ultimate outsider."
Prophet in "the wilderness."
Jesus corrects false impression that he was swayable.

Bunyan's pliable.
Ready to martyr for the faith.
Radically different from formal and controlling religion.
A form of godliness but not life inside.
ESV 2 Timothy 3:5 having the appearance of godliness, but adenying its power. bAvoid such people.
John's persona and exposure expressed/symbolized the opposite of religious comfort!
Verse 8 probes deeper, "What then did you go out to see?" (v. 8).
A man dressed in soft clothing?"

"Soft" meaning "effeminate" (cf. 1 Cor. 6:9).
Implying John's rugged clothing not "soft clothing."
Jesus smashes false persona for John.
In prison, so mission failed.
Not at all, this is suffering Kingdom Violence! (cf. v. 12).

John began "in the wilderness," a harsh environment.
Next post, "prison." Another wilderness.
Never meant to "wear soft clothing…in king's houses" (v. 8).

Not meant for an easy lifestyle.
Everything other than a comfortable lifestyle.
Preaching truth, not Flattering a King (Herod Antipas!).
Never called to be in good with the world's politics!
"John was not in a king's house but was in the "King's House."
If we go outside of comfortable religion looking outside in God's wilderness for something comforting, trading one form of comfort and another, then we will come up empty.
Why do consumer-oriented religion and consumer churches leave you empty and confused?
Because the world is fallen in sin, believers will inevitably always find themselves moving toward where it is uncomfortable when associating with Christ's message.
Jesus says this violent prophet is also a privileged prophet (vv. 9-10)
John the Baptist, a prophet of prophets, but never for John's sake.
There is no self-honor for being a prophet.
ESV Mark 6:4 And Jesus said to them, a"A prophet is not without honor, except in his hometown and among his relatives and in his own household."
Being a prophet is a manly being a forecaster.

Predicting the Messiah, his coming.

All prophets preached judgement.
Most always saying what does not feel good and is not well-received.
John saw veiled fulfillments of his own message, seeing blessing but no real judgement.

Why John was confused.

Had second thoughts.
What made John "violent" to question Jesus.
Still, John had the privilege, of being the last Old Testament prophet.

He was the bridge.

Selected by God to be born to Mary's relative, Elizabeth.
Leaping in her womb by the Holy Spirit, when in presence of Mary.
Set apart to preach.

From everything worldly.
Taking the Nazarite vow.
Not only foresaw Messiah, but also saw Messiah: "Behold the Lamb of God who takes away the sins of the world!"

All of Jerusalem fleeing religion, fleeing the wrath of God, undergoing the baptism of repentance!
Jesus connects Malachi 3:1 to John.
ESV Malachi 3:1-3 a"Behold, I send bmy messenger, and che will prepare the way before me. And the Lord dwhom you seek will suddenly come to his temple; and ethe messenger of the covenant in whom you delight, behold, he is coming, says the LORD of hosts.2 But awho can endure the day of his coming, and who can stand when he appears? For bhe is like a refiner's fire and like fullers' soap.3 He will sit aas a refiner and purifier of silver, and he will purify the sons of Levi and refine them like gold and silver, and they will bring bofferings in righteousness to the LORD.
John is the forerunner, designated to introduce Jesus to the world.
You may believe you have missed God's plan altogether. God may have brought you into low or harsh circumstances for an unknowable reason.
John was meant to undergo a violent life circumstance. The crowds should not judge him for his questions nor his prison setting. You likewise have to fight through doubts and embrace what appears as "suffering violence."
2. John was humble (vv. 11-15).
John was not only violent, but humble.
a. No higher praise for John (v. 11a).
Jesus could offer no higher praise than what he says of John.

A model prophet, for following Christ.

Unparalleled praise for John.

Could be tempted to believe on an inappropriate scale.
Like everyone, John born a sinner.
"Why the esteem, almost being worshipped?"
John, "born of a woman" a phrase given to Christ (cf. Gal. 4:4).

Reflects full humanity.

John, born of Elizabeth.
Like Sarah was beyond childbearing age.
Not emphasizing extraordinary circumstances.
Saying, John is just like anyone else.

We all start here; being born.
No one is greater than John the Baptist? (v. 11a).
b. No higher praise for anyone (v. 11b).
Jesus balances the scales in verse 11b.

"Yet the one who is least in the kingdom of heaven is greater than he" (v. 11).

This is GRACE!
The path of Humility.

Any Christian bears this commendation by Christ.
By taking John's same path.
"How can you be as great as John?"

By being "least in the kingdom of heaven" (cf. Matt. 10:42 "little ones").

Not climbing the ladder.
Being higher and greater than others.

Lesser not greater.
The point is to receive the humble path paved before you.

Christ at all costs.
Nothing higher than Christ.
Living the life John the Baptist lived.
John was "great" because he followed Christ with what he knew of Christ.

Humble amount of Revelation.

Less than we know about Jesus.
The humble are privileged to know the "height and depth, length and breadth and know the love of Christ" (cf. Eph 3:17-21).
Opposite of knowledge puffing up.
We know truth and we know Christ.
c. John was humble and violent (vv. 12-15).
The balance for living the Christian life is living a humble life that is also a violent life.
Not one or the other! This is John the Baptist! One fueled the other!
Other synonyms for "violence" that are more politically correct, but this word strikes the cord, when defined biblically.

Christians are never called to be violent.

By their flesh!
World "violence."
Question: "The violent [are those] who take [the kingdom of heaven] by force?"

Qualification of an elder is to never be a bully, pugnacious, brawler.

But to be gentle.
The fruit of the Spirit is gentleness.
We are gentle, joining the Kingdom means entering a violent atmosphere.

"…the kingdom of heaven suffers violence" meaning you enter one kingdom destined to clash with another.

Joining one army that sides against another.
Clashing between heaven and earth.
When low pressure meets a cold front in the Southeast. Boom! Loud thunder! Heaven's holy realm intercepting with our dark sin-cursed world. Expect a Boom. Expect Violence!
Ukrainians are living in violence. Some are now accustomed to hearing bombs explosions. They have accepted this new warzone reality. Believers expect explosions!
"The violent take it by force" (v. 12).

John is Jesus' example to us, "taking the Kingdom of Heaven" by force.

"The violent" [Biastai] only used here in NT.

Someone willing to go against this world, for Christ's sake.
By force of will! Zeal! Not fleshly zeal but nevertheless, zeal.
Not fighting by worldly force of strength or manipulation but persevering zeal, clothed in humility and truth.
"Violence" is used in two regards, both in suffering and in zeal.
Why John asked whether Jesus was the true Messiah! Violent zeal!

You ask, "Where is the humility?"

It takes humility to live in the wild, to sacrifice all.
Jailed for preaching.
General Douglas MacArthur prayed on behalf of his son:
Build me a son, O Lord, who will be strong enough to know when he is weak, and brave enough to face himself when he is afraid; one who will be proud and unbending in honest defeat, and humble and gentle in victory…
Build me a son whose heart will be clear, whose goal will be high; a son who will master himself before he seeks to master other men; one who will learn to laugh, yet never forget how to weep; one who will reach into the future, yet never forget the past.
And after all these things are his, add, I pray, enough of a sense of humor, so that he may always be serious, yet never take himself too seriously. Give him humility, so that he may always remember the simplicity of true greatness, the open mind of true wisdom and the meekness of true strength.
Then I, his father, will dare to whisper, "I have not lived in vain."
This testimony of this humility with zeal are witnessed in all God's prophets ("past soldiers") up through John (v. 13).

Heaven's message, declared.

The Gospel meant to bring Thunder!
Always has been this way.
Verses 14 and 15 represent Jesus' "Altar Call."

Rhetorically speaking, "and if you are willing to accept it…"

"[John] is Elijah who is to come" (v. 14).
"Do you have ears to hear this message?" (cf. v. 15).
John was far from perfect.

While in jail he fell into doubting.

Nevertheless, this was the real battle that has always been going on.

Since the days of Elijah!

Preaching and defeating the prophets of Baal.
Violent and humble.
Doubting himself and God, sitting under the Juniper tree.
ESV 1 Kings 19:1-4 Ahab told Jezebel all that Elijah had done, and how ahe had killed all the prophets with the sword.2 Then Jezebel sent a messenger to Elijah, saying, a"So may the gods do to me and more also, if I do not make your life as the life of one of them by this time tomorrow."
3 Then he was afraid, and he arose and ran for his life and came to aBeersheba, which belongs to Judah, and left his servant there.4 But he himself went a day's journey into the wilderness and came and sat down under a broom tree. aAnd he asked that he might die, saying, "It is enough; now, O LORD, take away my life, for I am no better than my fathers."
John fought through these same storms of doubting.

Under intense pressure of imminent death.
What about for today?

We are Christ's truth-speakers, in a war that rages when we speak it!
What will you say at the end of your lifetime?
Was it real? Was it meaningful? Did you fight the good fight of faith all the way to the end?
Finally, ask yourself, "What did you expect?"

In times when there is war and war threats:

Being a believer calls for stability.
Stability defined by "violence and humility."
Like John, we are not a reed being blowing in the wind.
You, like John, may come under intense circumstances that cause you to have a crisis of faith.

What will you do?

Pray you see and hear the battle.

Thunderclaps and bombs, where heaven and earth clash until there is final resolution.
Final victory where Christ visibly reigns, and the battle is won.
New Heaven New Earth forever.